Enthusiast
What to Expect from the 2023 Mazda CX-90
It's time to break away from electric vehicle news (for just a moment) and pivot back to a department that consumers know and love all too well — the sport utility model. But today we're not here to talk about just your average crossover or compact SUV, we're highlighting the best of what's to come from Mazda's lineup, the highly-anticipated 2023 Mazda CX-90.
It's luxury with a touch of splendor. It's shaping up to be the bigger (and likely better) sister of the CX-9 crossover. Offering three-row seating and assumed standard all-wheel drive, the CX-90 might just be the next greatest hit among Mazda's expanding lineup. (Sorry Cx-5)
What's special about this upcoming release? Besides being a new nameplate for the brand, the CX-90 will mark a first for Mazda in regards to its powertrain.  Keep reading to learn more about its engine and transmission along with all the specs and details we know so far. It's definitely not much, but from what we've seen as of yet, the CX-90 is guaranteed to make Mazda drivers rush over for a test drive.
More power. More luxury.
Breaking into production by end of 2022, consumers will officially get a glimpse of the CX-90 by early 2023. For now, however, we're happy to report on some of the exciting features that are set to satisfy consumers' expectations already. Although Mazda has played rather coy about this SUV release, as well as the rumored CX-70, the model in question was recently spotted out on a disguised test run that gave auto enthusiasts a clearer indication of what's to come. One thing we know for certain by the photographed images is that the CX-90 is even larger than anticipated.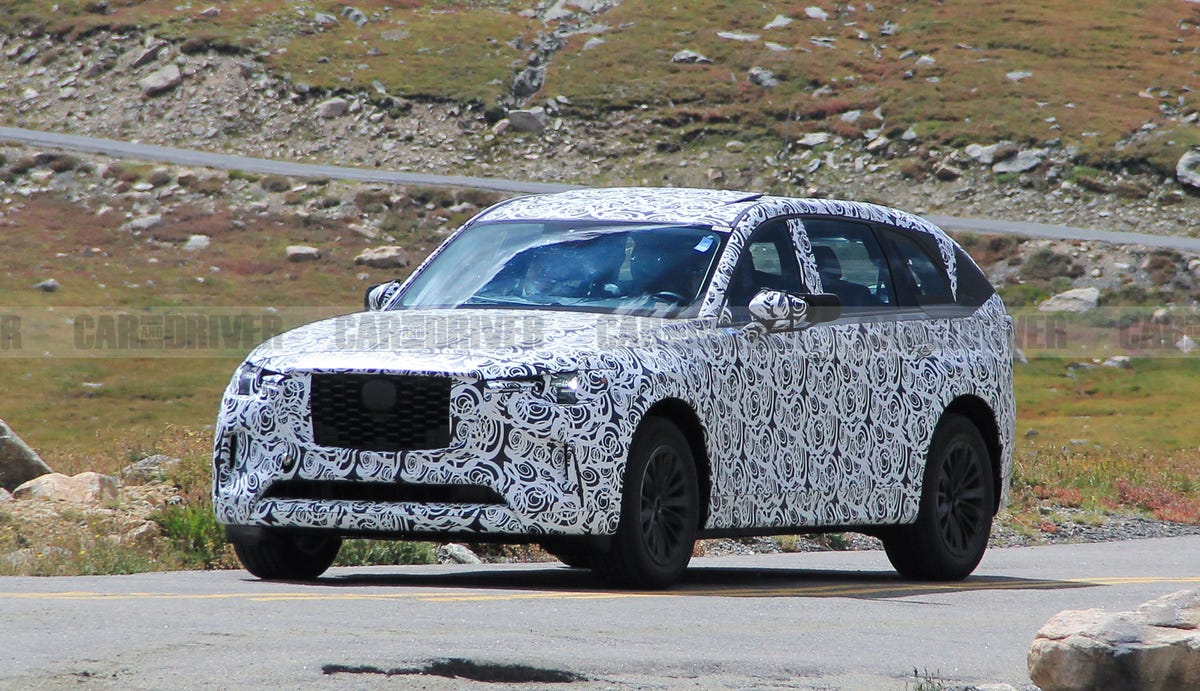 Image source: CarandDriver
Here are a few key projections about the 2023 Mazda CX-90:
The CX-90 is estimated to have a starting price of $40,000, according to CarandDriver.com. Official pricing has not been announced yet.
Trim levels will likely vary from Base model to Premium Plus in congruence with other Mazda models.
The all-new CX-90 is set to replace the outgoing CX-9 crossover.
What's the engine like?
As noted, the CX-90 welcomes a distinctive change to its powertrain that rivals that of its brother and sister models. The all-new Mazda CX-90 comes equipped with a turbocharged 3.0-liter incline six engine with a reported available 48-volt hybrid system for an eco-touch. This performance combination is most often seen in higher-end SUV models, which tells us that Mazda is stepping into a more advanced era of manufacturing. Even though they've been hesitant to join the EV race, the inclusion of a plug-in hybrid option is a tell-tale sign that the Japaneses automaker is easing up to the idea of greener production.
How many seats does the Mazda CX-90 have?
Among all the questions regarding this upcoming release, this one gets asked the most often. Large families will absolutely love the utility of the Cx-90 for many reasons. But one of the most obvious being is its spacious interior cabin. Previous Mazda CX-9 owners have openly criticized the lack of cargo space and tiny third row seating that was rarely suitable for the average sized adult. The Mazda CX-90 will fix all that and bring a lot more luxury in return.
With three-rows and available seven passenger seating, you can comfortably fit every member of your crew with ease. The foreseeable dimensions of the CX-90 provides good evidence that size will never be a problem this time around. While we haven't gotten the full scope of the CX-90 interior, we expect it won't disappoint in terms of comfort.
Still wanting more? Wait and find out further details about the Mazda CX-90 release
Sure, the Mazda CX-90 reveal is just a few months away. And yeah, the camouflaged images gave us a clear visual of its actual dimensions and body style. But right now, we're just like every automotive enthusiast who wants more. Until Mazda officially reveals the Mazda CX-90, it's unlikely we'll get all the details we're looking for. All we can do is keep an eye out for what's to come. We'll be sure to notify our readers as soon as more information is released.
Thanks for tuning in to our latest update on the Mazda CX-90! More updates are set to follow in the upcoming months. However, we still want to know what you think! Are you looking forward to this SUV release? Share your thoughts below.