When you think of Dodge, you think of excellent muscle cars and powerful, aggressive engines. With their latest release, Dodge did not disappoint. The automotive giants are finally breaking into the electric vehicle market with their first hybrid performance vehicle, the Dodge Hornet R/T. It is a hybrid SUV coined by Dodge to be the most powerful compact SUV on the market. 
To ensure enthusiasts it is not abandoning its big power roots for electric technology, its first electric vehicle has a traditional gas-powered twin, the Dodge Hornet GT. This vehicle contains many similar features to its electric counterpart. 
These new vehicles are Dodge's first releases since 2012 when they unveiled the "Dart." The sedan's future was bleak as the initial uptake was underwhelming, and it finished production after four short years.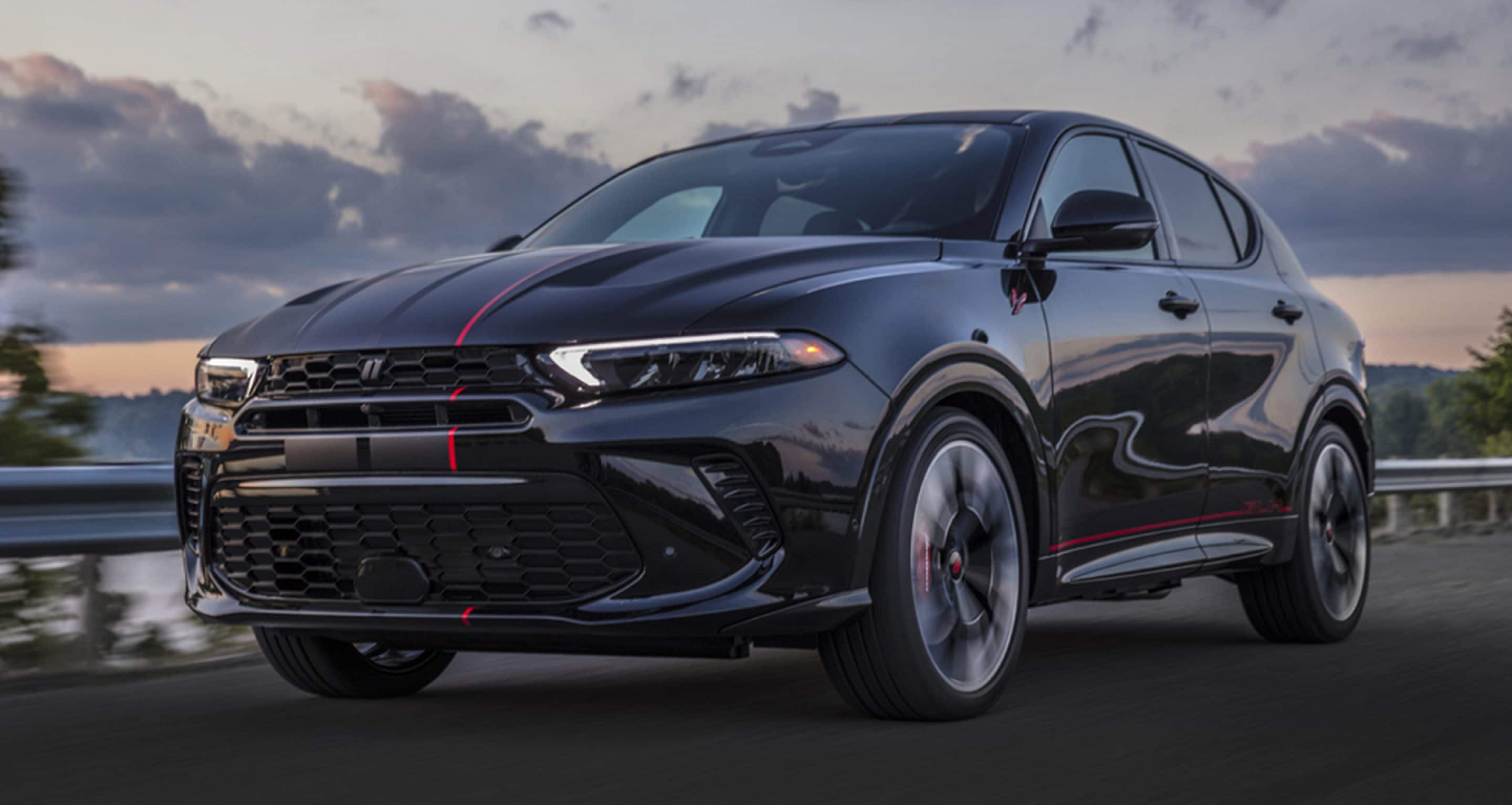 Image source: Dodge
The New Electric Hornet R/T
The Hornet R/T is an exciting and powerful release from Dodge that did not forget its muscle car roots or the environment. It contains three driving modes, hybrid, electric, and E-save. Hybrid minimizes fuel consumption, electric is the zero-emission mode, and E-save gives priority to the gas-powered engine to allow the vehicle's battery to charge. 
The Dodge Hornet R/T Engine
The Hornet shares its suspension, Koni suspension, and all-wheel drive with the Alfa Romeo Tonale; as they are made in the same manufacturing facility, it is not a surprise. 
It contains a turbocharged 1.3 inline-four engine and a 90-kW electric motor on the rear axle. There is a six-speed automatic transmission that takes care of the gearchanges. This hybrid system will give an output of 285 horsepower, which is more than its gas-powered alternative, the Hornet GT which only has 268 horsepower. It also contains 383 pound-feet of torque.
While it only has a top speed of 128mph, which is lower than its gas-powered counterpart, which can hit a top speed of 140mph, the Hornet R/T is quicker. It goes to 60mph in 6.1 seconds, while the Dodge Hornet GT takes 6.5 seconds. 
The Dodge Hornet also contains exciting features like the "PowerStop" button. This feature delivers a 15-second, 25-horsepower, and torque boost to have a little thrill. It is like something from the movie "The Fast and The Furious," which will excite some buyers. 
The Dodge Hornet R/T Hybrid Battery
The Dodge Hornet R/T hybrid battery has a 15.5-kWh capacity and a 7.4-kW charger. As the car is driving using the gas-powered engine, the battery is simultaneously being charged to total capacity, which takes approximately 2.5 hours.
As it is a hybrid, it does not contain a long driving range when it is in full electric mode, but it still gives approximately thirty miles, which is convenient in some situations. It also utilizes regenerative braking to maximize the battery's efficiency within the vehicle. 
The Dodge Hornet R/T Design and Technology
While on the outside, the Dodge Hornet contains a similar design to the Alfa Romeo Tonale, the most significant exterior feature is the large heat extractors on the hood, giving their new release that Dodge flair. 
The Dodge Hornet can be upgraded with a range of different accessories packages, including a track pack, which gives the SUV a sporty feel. This upgrade package includes 20-inch wheels, upgraded dampers, and unique styling accessories. 
For the technology buffs out there, the car is brimming with everything a tech nerd could dream of. It utilizes full driver assistance technology, which can help with various maneuvers, including automated emergency braking, traffic sign recognition, drowsy driver detection, blind-spot monitoring, cruise control, parallel and perpendicular parking assist, and lane-keeping assist, to name a few. Its technology is also very intuitive as it contains rain-sensing wipers and automatic high beams for extreme weather conditions. 
The entertainment system is packed full of attractive features. It contains a 10-inch display with many features, including all music streaming platforms. Also, there is a wireless smartphone charger and a 465-watt Harman Kardon sound system.
The Dodge Hornet R/T Price
The starting price for the Hornet R/T is $39,995, while its gas-powered alternative is $10,000 cheaper. These prices are without any upgrades, accessories, or delivery. While the Hornet GT has been in dealerships since December 2022, the Hornet R/T will be available for purchase this spring.
Dodge also contains an e-shop program that will let customers explore the different options and accessories for their new Dodge Hornet purchase, organize financing for the vehicle if needed, and set up delivery straight to their driveway. 
Overall, the release of the Dodge Hornet R/T is an exciting attribute to the hybrid section of the automotive market. It is fast, eco-friendly, and brimming with technology; what's not to like?