Enthusiast
10 Coolest Porsches Owned by Jerry Seinfeld
Comedian and Porsche enthusiast Jerry Seinfeld is known for having one of the world's most exclusive and rare Porsche collections. He has built his collection specializing in historical significance and driving experience rather than monetary value. In 2016, he reduced his collection by auctioning several cars. Here are the most iconic Porsches he still cherishes. 
1.    1955 Porsche 550 Spyder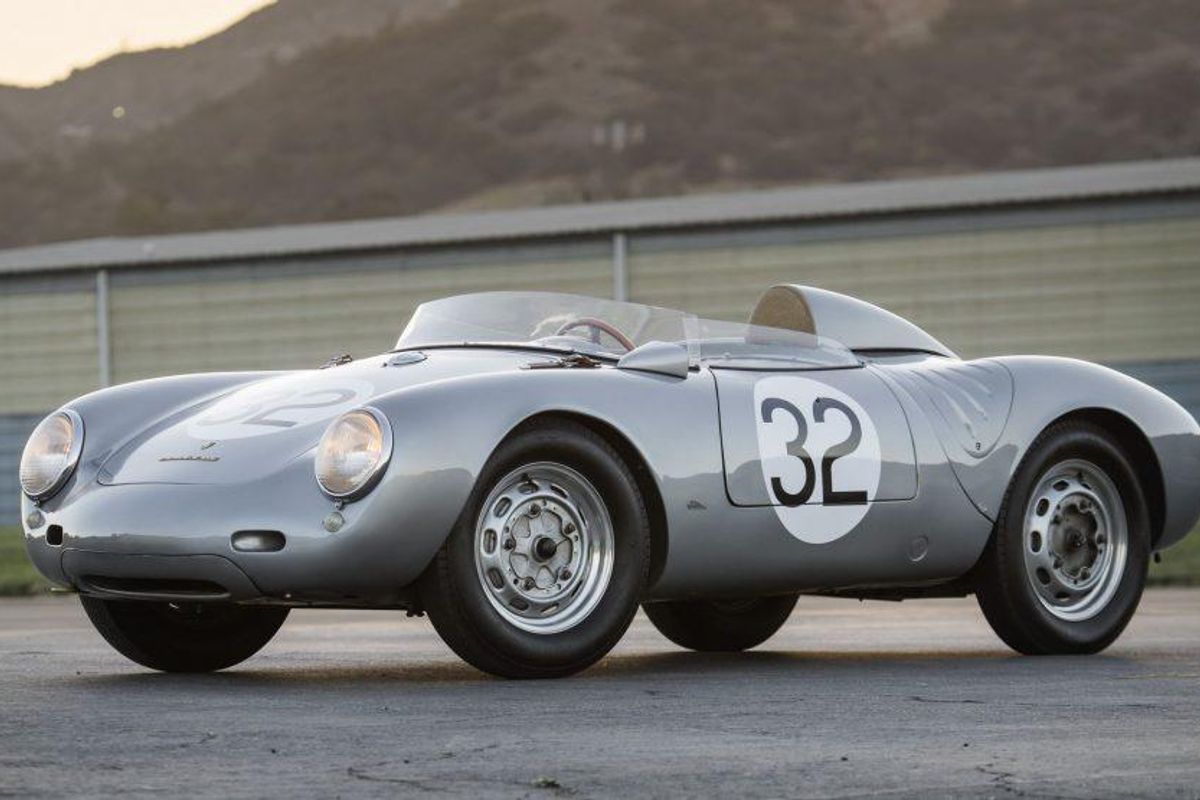 Image source: https://assets.rebelmouse.io/media-library/image.jpg?id=30855797&width=1200&height=800&quality=90&coordinates=68%2C0%2C69%2C0
Along with one of these cars owned by Jerry Seinfeld, this Porsche has another claim to fame. It, unfortunately, was the car that actor James Dean was driving when he was killed. Only 75 of this specific model ever made; it has a 1.5-litre engine, 110 horsepower, and a top speed of 140 mph. It was the first race car that Porsche built and was known far and wide for its excellent reputation on race track. 
2.    1958 Porsche 356 1500 GS/GT Carrera Speedster 
Image source: https://rennlist.com/wp-content/uploads/2016/02/Seinfeld-356-carrera-speedster-front-left.jpg
This car was the first classic car that Jerry Seinfeld ever purchased. 13 of these cars were produced and contained a 1.5-liter flat-four engine. Unlike today's Porsches, the GS/GT Carrera Speedster had no luxuries or soundproofing. Not that many automobile enthusiasts would mind hearing Porsche's iconic engine in all its glory. These cars were built for one thing: speed. Anything that stopped them from reaching this goal was removed. It is the perfect, minimalist sports car. 
3.    1959 Porsche 718 RSK Spyder
Image source: https://thenewswheel.com/wp-content/uploads/2014/11/Seinfeld-Hart-Porsche-630×353.png 
The Porsche 718 took over the 550's place in Porsche's repertoire. This car is now a collector's item and is very rare, as only 40 vehicles were manufactured. It came with two different-sized engines: a 1.5-liter engine with 148 horsepower and a bigger 1.7-liter flat-four engine that could produce 160 horsepower. As the car is only 1270 pounds in weight, it is excellent for racing. It even won at the 1959 Daytona 1000 km and the 1959 Targa Florio in Sicily. 
4.    1966 Porsche 356 SC Cabriolet Dutch Police Car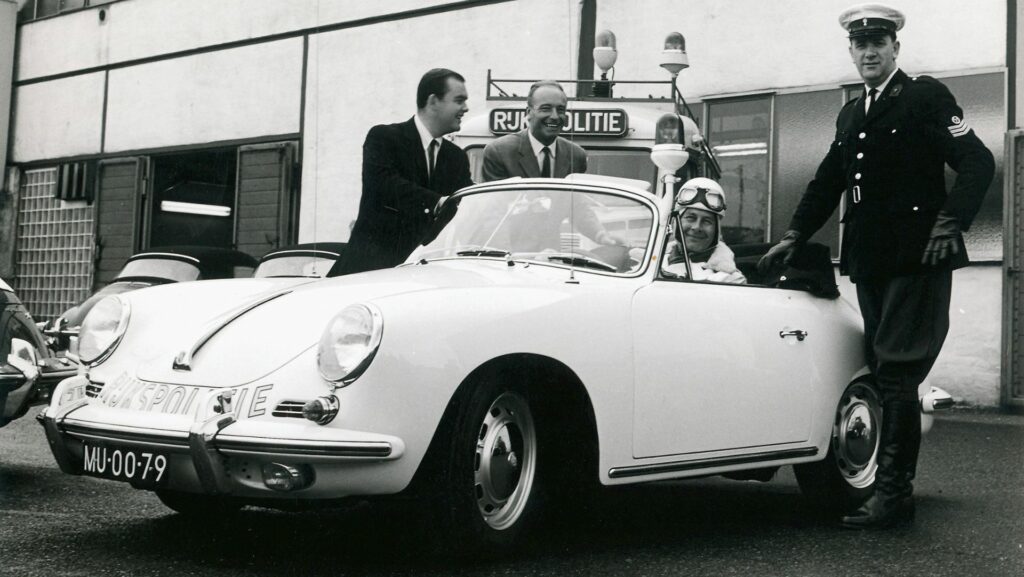 Image source: https://cvrpca.com/wp-content/uploads/2022/10/b-hav559-1024×577.jpg
Jerry Seinfeld also purchased one of only ten Porsche Dutch Police cars. These cars were used in Holland by Police during high pursuit. This 1966 Porsche 356 SC Cabriolet was the last of the 356s to be made, and an extra ten were made for the Dutch Police by special request. Its top speed was 125 mph, 105 horsepower, and 91 pound-feet of torque. As the model is number 10 of 10, he essentially owns the last 356 manufactured.  
5.    1970 Porsche 911S Henri
Image source: https://www.imcdb.org/i534444.jpg
The 1970 Porsche 911S had massive improvements to its design and construction than previous models. It has a 2.2-liter flat-six engine that can deliver up to 180 horsepower. This, like most Porsches, is a rear-wheel drive but has the addition of four-corner independent suspension. During the production of this car, better safety laws for vehicles were put into place, so this model is the first to have the Targa concept implemented. The Targa has neither a hard nor soft top but a hybrid of both with the addition of a safety or roll bar. 
6.    1973 Porsche 911 Carrera RS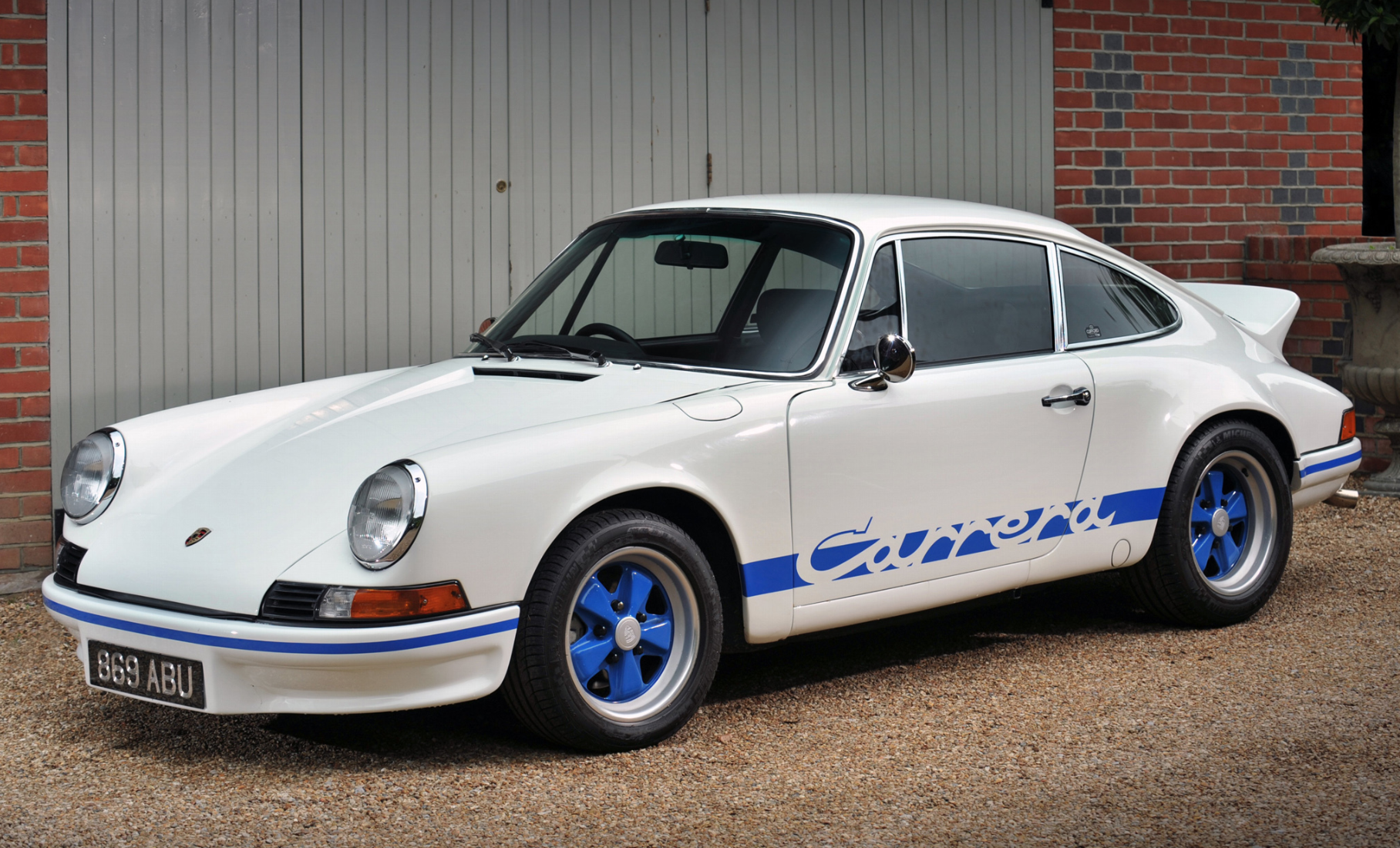 Image source: https://www.supercars.net/blog/wp-content/uploads/2019/11/Porsche-911-Carrera-RS-2.7.png
Porsche made the 1973 Porsche 911 Carrera RS as a race car, but to get its production approved, over 500 of these cars had to be made. Overall, 1,580 911 Carrera RS were produced featuring a 2.7-liter flat-six engine, 210 horsepower, a top speed of 150mph, and various modern extras. It weighs 2149 pounds, giving it the ability to reach 0-60mph in 5.6 seconds. Not only that, this car was the first feature the iconic "ducktail" rear spoiler Porsche is famous for. 
7.    1986 Porsche 959 
Image source: https://hagerty-vid-images.imgix.net/vehicles/P1090725_5011_Porsche_1986_959__Prototype_WPOZZZ93ZFS010067_900.jpg 
The development of the Porsche 959 started as the chief engineer wanted to create an all-wheel "Super 911" to compete in Group B rallies. After many years of development, it was released in 1986 with a flat-six turbocharged engine that boasted 444 horsepower and a ground-breaking top speed of 197 mph. Drivers could select where the torque went in this four-wheel drive system. This car was so fast that it was banned on US roads. 337 were manufactured, and when Jerry Seinfeld bought this car, it cost him $700,000. 
8.    1999 Porsche 911 Classic Club Coupe
Image source: https://www.thedrive.com/uploads/2023/06/27/Seinfeld-Porsche-996.jpg?auto=webp&crop=16%3A9&auto=webp&optimize=high&quality=70&width=1440
When envisioning a Porsche, this is the car you think of. The 911 Classic Club Coupe was recommissioned to commemorate Porsche's 75th anniversary. This one-of-a-kind car was auctioned during Porsche celebrations, in which Jerry Seinfeld won. No expense was spared as it was developed for such a momentous occasion. The details that went into this car are tremendous, as even its badge displayed "No. 001/001." It also contains a 3.6-liter flat-six liquid-cooled engine with 381 horsepower. 
9.    2000 Porsche Carrera GT Prototype
Image source: https://dealeraccelerate-all.s3.amazonaws.com/canepa/images/1/0/8/7/1087/38526_00_porsche_carrera_gt_prototype_01.jpg?AWSAccessKeyId=AKIAI7H25DZUWK7X4E3A&Signature=5xcLdmNAQ%2BzmwHbJevToZve08mU%3D&Expires=2147385600
Porsche produced 1,270 of these supercars when they were mass-produced between 2004 and 2007. But in 2000, two fully functioning prototypes were manufactured, of which Jerry Seinfeld owns one. It contains a 5.7-liter V10 engine capable of producing 600 horsepower, has a top speed of 205mph, and can reach -60 mph in 3.5 seconds. Like the 1955 Porsche, this car also has a sad history as it is infamous for being the vehicle that actor Paul Walker died behind the wheel of in 2013.
10. 2019 Porsche 911 Speedster Type 991.2
Image source: https://www.stuttcars.com/wp-content/uploads/2021/12/carpixel.net-2019-porsche-911-speedster-90690-hd.jpg
This limited-edition Porsche 911 Speedster was released in 2019. It contains a 4.0-liter flat-six engine, 502 horsepower, and 346 pound-feet of torque. It is an open GT3 with a unique Heritage design package that includes gold and cognac interiors, white and silver exterior paint, and racing badges. Only 1,948 vehicles were manufactured and valued between $350,000 and $400,000.
Overall, Jerry Seinfeld's passion for Porsches goes beyond mere ownership. It's a testament to his genuine appreciation for the automotive industry and engineering excellence of Porsche models. While his collection has garnered attention for its exclusivity and rarity, it's his commitment to preserving the historical significance of each Porsche that truly sets him apart as a collector.