DIY
5 High-End Vehicle Accessories for the Luxury Car Owner
Many people say an outfit is not a great outfit without accessories. Well, the same can be said for vehicles. While it is a fantastic day to walk into a Bentley garage and buy a new car but to really push the opulence and extravagance, it is the little extra that pushes vehicles from being a nice Bentley to being a wow car. Some accessories push lavishness to the next level, and some are practical in luxury, high-end cars. This article has a mix of both as we show you the luxury accessories you need in your new vehicle and those you want in your luxury car.
The best vehicle accessories for luxury car owners
Nextbase 622GW Dash Cam
Here is a more useful car accessory, the Nextbase dash cam. It is the gold standard of dash cameras with 4K resolution and 140° field of view, which gives a broad view of the road in front of the car. It has image stabilization, excellent night mode, parking assistants, and an incredibly useful emergency response built-in.
One of the most exciting features is that it contains 24-hour parking monitoring, which will automatically turn on with your car is damaged or hit by another vehicle. Even though it records in a loop, if there is an accident, it saves the footage automatically, so it will not be recorded over. It has Bluetooth and WIFI capabilities. This dash cam is innovative and an excellent piece of technology. Perfect to add to a luxurious automobile.
Meguiar's Gold Class Carnauba Plus Premium Paste Wax
There is a reason that this car wax is called Gold Class. It is made from carnauba, a Brazilian tree nicknamed "the tree of life," and polymers. It is utilized by people who own expensive cars and want to protect the paint on their vehicles and add that freshly waxed shine to them.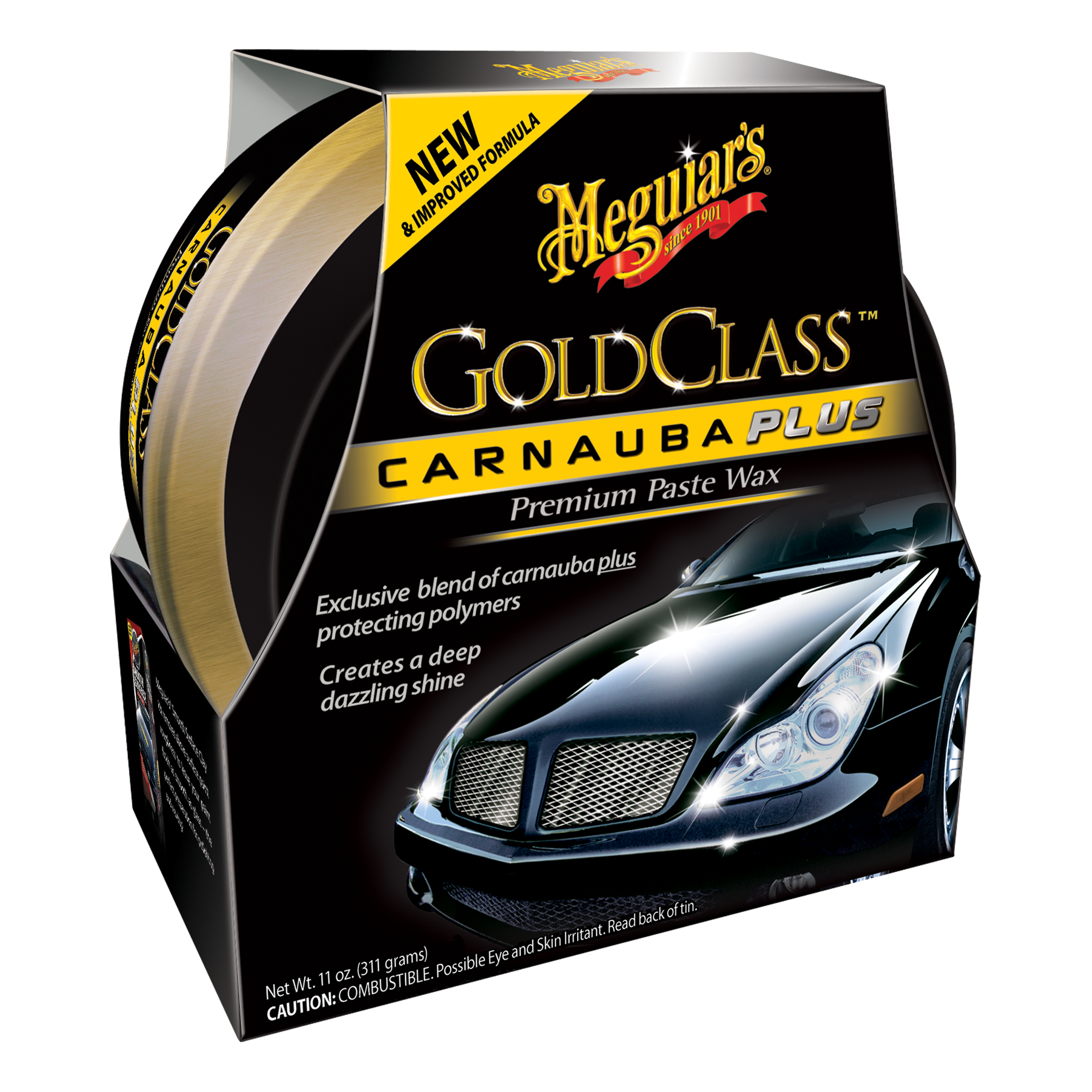 Image source: Meguiar's
According to the manufacturer, it is safe to add to any paint and will add a clear coat of protection. It can be applied and removed easily by using a dual-action polisher, or it can also be applied by hand. When you buy this wax, it comes with a foam applicator, so it is another thing you do not have to buy when buffing your new expensive car on a Saturday morning.
Carbon Fiber License Plate Frame
If you have gone through the trouble of acquiring a Ferrari or another high-profile car that is manufactured with carbon fiber, you may as well have the accessories to match. Why not have a matching set? This carbon fiber license plate frame is the perfect accessory car enthusiasts will notice immediately. It is manufactured using 100% carbon fiber cloth and finished with a UV-protective coat for longevity.
It is anti-corrosion, anti-rust, and resistant to all weather conditions, just like your vehicle's other carbon fiber parts. This product will fit all American and Canadian plates and is rattle-proof, as nothing is more annoying than a rattle coming from a car. It comes with everything you need to attach it to your vehicle so you can have your matching set of accessories on your luxury vehicle in no time.
If you want to expand your collection, there is also an extensive range of other carbon fiber accessories. This includes carbon fiber dashboard inserts, spoilers, and key cases.
So now we have looked at some of the more practical luxury accessories for expensive vehicles; let's have a look at some impractical accessories but ever so lavish!
Bentley's Mulliner Refrigerated Bottle Cooler
How do you show precisely how luxurious your car really is? By adding a Mulliner bottle cool to the back seat. When you have enough money for a Bentley, you rarely sit in the front anyway, so it is nice to have a cooled drink while sitting in one of the most luxurious cars on the market. It has enough storage space for a champagne bottle in a canted position, a bottle stopper, and two champagne flutes. All of this luxury is hidden behind frosted glass.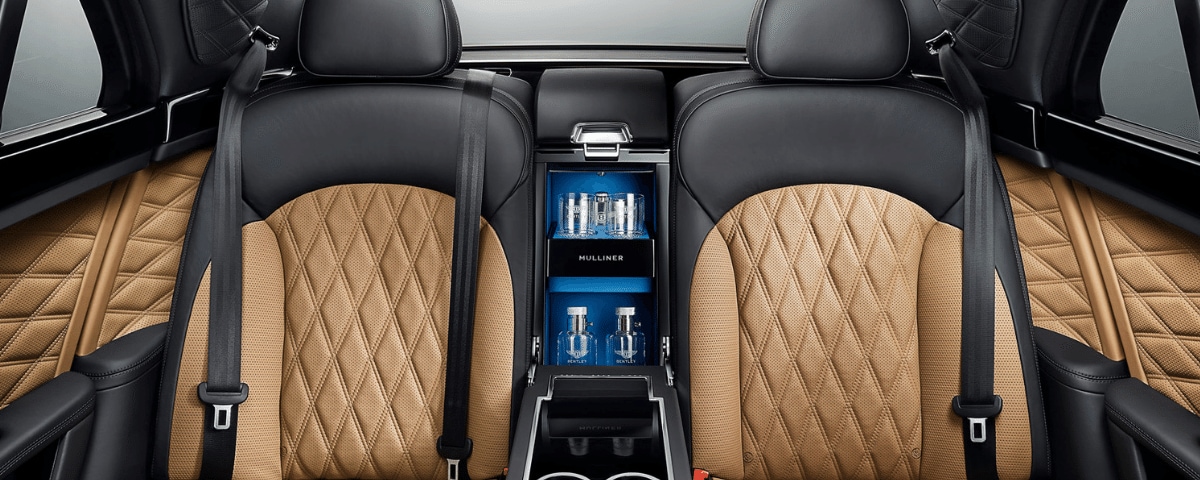 Image source: Bentley Newport Beach
If that isn't luxurious enough, the glasses provided in the cooler mirror the design on the car's wheel. There's nothing like a bit of attention to detail to really add opulence to a car accessory. When you enjoy this celebratory drink, a champagne flute holder is on the center console armrest if you wish to put the glass down. Every bottle cooler is handcrafted and trimmed in the exclusive Mulliner workshop. The fabricating process takes over fifteen hours, and it has a price of $10,135, which includes installation.
For Bentley, the accessories do not end there. They also have veneer panels, sterling silver scent atomizers, and a leather storage compartment.
Rolls-Royce Starlight Roof
This one, everyone wants in their car, even if you will not admit it, you want it. When you purchase a Rolls Royce, everyone knows it comes with an umbrella, but did you know it also comes with its own starlight roof? Rolls-Royce creates the most luxurious cars in the world. Generally, they are an automobile brand favored the most by the English Royal family.
This starlight roof contains fiber-optic lights mounted on the interior ceiling to replicate a clear, starry night with various constellations. It has anywhere from 800 to 1600 lights on one roof. It is available in a select number of models, including the Wraith coupe and the Ghost sedan.
The starlight roof is handcrafted and can be made to the owner's specifications. So, if you have a particular favorite constellation in mind, that can easily be accommodated. It takes two craftspeople over nine hours to make, and more complicated designs can take longer. So, if you are in the market for a Roller, add stars for a more relaxed and romantic feel.
Overview of luxury vehicle accessories
Luxurious accessories allow the car's owner to show their personality within the vehicle. Whether it is matching carbon fiber accessories to go with your carbon fiber car or a drink cooler in your back seat, it all gives the vehicle a little oomph, and everyone needs that sometimes.